Furniture For A Cause - Donate Furniture Online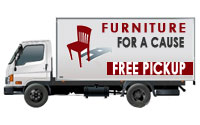 FAQ about Donating Furniture:
Where do I donate furniture? How do I donate furniture?:
You can drop off your furniture donation at our San Antonio Furniture Store during operating hours at 5254 Blanco Road, San Antonio, TX 78216.
You can call 210.442.2440 to schedule your Free furniture donation pickup via phone.
You can fill out the online furniture donation form below and schedule your Free donation pickup.
Who offers Free Furniture Pickup for Furniture Donations?
Furniture For A Cause gladly offers Free Furniture Pickup of your furniture donation of gently used furniture within the greater San Antonio area. We are the only agency in San Antonio that will go inside your home and pick up your furniture.

How can my Furniture Donation Help Others in Need?
Your furniture donation will be placed for resale in Furniture For A Cause public retail store and/or our online store. 100% of the net proceeds from the sale will go to SAMMinistries services and shelter for the homeless in San Antonio. SAMMinistries helps over 1,000 individuals and families every day to help them move from homelessness to self sufficiency. In addition, we work with several other San Antonio based non-profit organizations to provide them additional discount programs for affordable furniture that is needed for the community.

What types of furniture donations do you accept?
We gladly accept furniture donations of gently used and second hand furniture including, used bedroom furniture, used sofas, used dining room furniture, used office furniture, used occasional furniture (coffee tables, end tables, consoles, etc.), used kids furniture, used baby furniture, large used home accessories (wall art, vases, lamps, chandeliers, etc.), and used hospitality/contract furniture.
As these items will be placed for resale, and used by another individual/family we ask that your donation be gently used, functioning, and free of recalls, or any other major defects/repairs. We also accept any tools or supplies that can be useful in helping us to restore minor damages in gently used furniture. To donate tools, please enter 'Tools/Supplies' in the 'Other' field below, or drop off at our physical location.

Furniture For A Cause drivers reserve the right to determine in an item falls beneath the standards set forth by our organization, and therefore reserves the right to not pickup any item(s) requested below.


What types of furniture donations do you NOT accept?
Furniture For A Cause unfortunately cannot accept the following donations:
Used Mattresses/Box Springs
Pianos/Organs
Waterbeds
Sleeper Sofas
TV's/Electronics/Appliances
Pool Tables
Clothing/Personal Items
Armoires/Entertainment Centers that do not hold current televisions.

---
---